This weekend has been all around difficult an I was so ready for it to be over today and it is. I needed an extra bump of this week is over. So as soon as I was done I decided to jump start the weekend with something that I have wanted to do for well, ever. I know that you are probably thinking of something so much more exciting than I am. which reminds me of a story I sometimes tell about a day a few years ago when Mikey got a new car and a mocha maker. I got a new dyson and I was so much more excited then he was. Today right after I was done with work I ran right over to Bed Bath and Beyond, and bought new trash cans. They are stainless steel and simple human. I love all things simple human. I have a grocery bag holder that I found at a thrift store:
$2.92 was not bad at all they retail for $9.99. I hung it sideways under my sink and fold all of my shopping bags up in to little triangles. I also have a shower caddy they are the first people that realized that women we like to buy our shampoo in liters, and we like them to be put upside down so you so not have to use pumps. I just wish that they could figure out that we/I like to have them both in liters.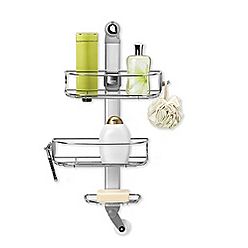 It is pretty great, you should get one. And now the before and after:
Boring white trash cans, because if you cannot get what you really want you should just get something that will get you by until you can. I really live this, I went from a futon to a Restoration Hardware leather sofa. When we bought a tempur pedic mattress it sat on the floor until my parents got us the amazing storage frame that we have been wanting. Anyway. I think I probably paid $20 for both of these years ago at Big Lots. The bags hang out but they worked. I have 2 because we recycle.
Another feature that I am super excited about the lock so that if I want to leave it open and peel carrots, I can!
Doesn't that just look so much better? You know what would make is so much better that I just cannot seem to get out of my mind even though it is too ridiculous. I want one of them etched with the recycle symbol on top. A girl can dream, if we win the lottery it is totally going to happen.