I went out on my first outing by my self today after being laid up for a week. Where did I go? The Salvation Army near my house where I recently found the Thomasville dresser that I am using for shoe storage and our new coffee table, you can see them
here
if you missed it. Today I did not buy anything. I am trying to live like the Amish until the wedding, plus I have so much stuff I should be working through that first. Plus Mikey says that the condo is really full now. There were two things that I considered.
1. Ceramic Bunny, It was not vintage like I though and I don't really decorate for Easter besides the wreath on my door, go big or go home, which happened to put this bunny back on the shelf.
2. 70ish Brass Rolling Cart (this is not it but similar)
The one I saw today was brass like this one, however the wheels were more generic and the handle was smaller and low rise. I want a table to go on the right side of the sofa. There have been several ideas about this. Before I saw the cart the plan was to make one with my childhood kitchen table legs that my mom gave me before they moved to Texas. It would be a simple rectangle with the shorter side facing out and the long line following the sofa. it would have a single small drawer for our current five remotes and one day one harmony remote. The top would be travertine to match the coffee table maybe even in a herring bone pattern. I would then find a vintage metal basket fix wheels to the bottom of it and put in rolled up blankets.
I was in a bit of a stew today thinking about all the work that has gone into and still needs to go into the dinning room chairs. To add to that stress I have only been working on four of them and have already logged seven or so hours and had help from Miss. Technically one of those chairs is not even for the dinning room; it is styled the same though so we can pull it out in a pinch and not have it look funny.
I find that whenever I am tackling a huge project that is taking FOREVER and I do not really have anything to show for it. After the seven hours I had put in and the two more I spent out there today I only have one chair that is almost ready to be painted. I mean primed, painted, and then put a poly topcoat on. Then I start lusting for a quick project that will give me something to post about. Re enter the cart.
I saw this cart a while ago and filed it because I love it.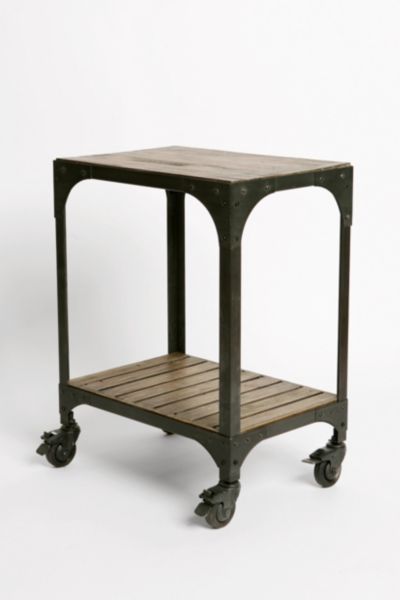 So today I was thinking I could take out the glass inserts spray paint it hammered black, get some pallet wood or old fence posts cut them down fasten them together and put them where the glass would have been. Quick project, cute results. There would be some issues with this:
I would not get to use my childhood table legs. Not only are they sentimental and sitting at that table with my mom I learned so many things, a lot of which I utilize in this blog. Secondly in taking the legs it made that table less useful to someone else, they won't be making the same kind of memories and I do not want to waste them.
Where would the remotes go?
No more cute vintage basket, which I am really looking forward to.
So I left it there, and I am really not having any regrets. The new plan is everyday this week, weather permitting, I want to spend at-least an hour in the garage working on those chairs. Hopefully by Saturday they will all be completely prepared and ready to go. I do have to work this weekend but that is irrelevant. I also want to finish preparing a silverware box that I bought a long time ago and get that finished this week. I also need to work on a pillow project that has been in my dinning room since early January. That is the new plan.