One of my most awesome friends and bridesmaid Kristy
Is allergic to eggs :( so I am always on the lookout for wonderful things without eggs in them. Last weekend I had an Ugly sweater party that I went to hosted by my friend Cindy. I needed to bring cookies to and there was a cookie exchange at work yesterday. Last week one of the blogs that I follow
A Bountiful Kitchen
posted a recipe for
River's Run Almond Shortbread
. These cookies are amazing for a few different reasons, first no eggs, Second you have to freeze the dough to cook it correctly so I made 2 batches last Friday and brought one to the Ugly Sweater Party and one that I kept in the freezer until Wednesday night when I cooked those for the cookie exchange at work.
I love almonds so I added some extra almonds and some orange extract and they were amazing!
Here is the comment that I posted:
This stuff is AMAZ-ING! I have 2 loafs in the freezer right now. I did add some extra almonds and some orange extract, I could not stop eating the dough. One of my est friends Kristy is allergic to eggs so I am always on the hunt for things that are terrific that does not have to make her feel like she is giving up anything. This cookie, top three of my live, seriously! And I think they will go wonderfully with champagne which is great since she is coming out for New Years. Thanks a million! :D
That same great day in blogland December 10th Stephanie Lynn from Under the Table and Dreaming posted
Make your own Simmering Spice Holiday Stove Top Potpourri (A Great Hostess Gift Too)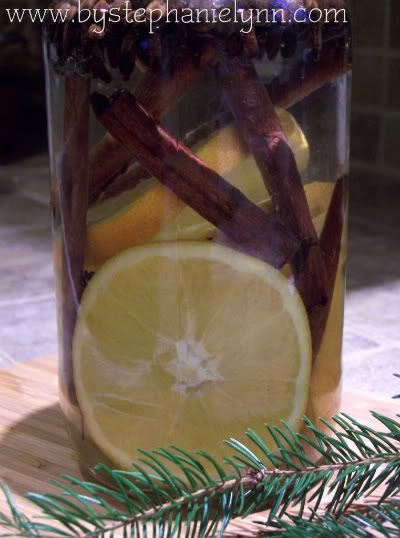 Which I brought both to the Ugly Sweater Party for Cindy and to Melony for the Secret Santa party the next night. What did I get from my secret Santa you ask? Only the most amazing secret Santa gift that I have ever gotten, I was by far the most excited person at that party:
Excuse my yellow bra. Just to show I was the most excited here are other people's reactions:
Mine!
Everyone knew which present I had wrapped.