I received my
The Container Store
St. Nick's Top Picks in the mail today. I edited his down to a few of mine. They all are green options, I constantly strive to minimize waste. Here are my choices in order as they appear:
Klipo Cutlery Set
Say "so long" to disposable cutlery! Travel with our Klipo Cutlery Set and you'll always have eating utensils conveniently at hand. There are two handles with interchangeable utensils - choose from a set of chopsticks, a knife, fork or spoon. The utensil heads simply snap into place and are easy to change. The reusable utensils fit neatly inside the case that's just the right size for a handbag or tote. Keep one at your office desk or in a dorm room.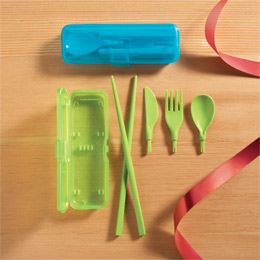 lunchskins® Lunch & Snack Bags
Simply brilliant. Our fantastic lunchskins® Lunch & Snack Bags replace the multitudes of plastic bags used to pack lunches. Each lined bag is made from quick-drying, lightweight cotton fabric. The flap is secured with hook & loop fasteners - it can be labeled with any permanent marker. Reuse the bags over and over again to hold everything from your PB&J to your potato chips! A must for lunch-toting kids and adults.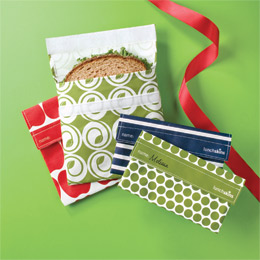 Retro Ice Bag
Simply fill our Retro Ice Bag with ice and water to relieve discomfort from headaches, bruises, migraines, muscle aches and swelling. Add hot water (not boiling) to help soothe an upset stomach, migraine, sinus and joint pain. A new take on a classic design, the bag is perfectly sized to fit in a small medicine cabinet or to take along when traveling.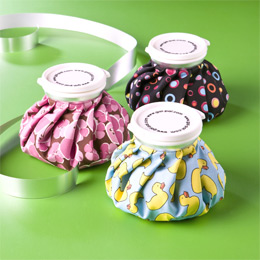 Cyber® Clean I did get some of this, it was cool, but I am sure it would be cooler is my stuff was dirtier...
Make a clean sweep of dust and dirt on any electronic keyboard or keypad with our innovative Cyber® Clean cleaner. Simply press the 100% biodegradable gel onto the unplugged or powered off device - it pulls dust and dirt from between the crevices and kills bacteria. This high-tech, nontoxic cleaning compound leaves a fresh scent and no residue. Because it traps dust and dirt, the gel is reusable - a helpful indicator on the packaging lets you know when it's time to replace it.